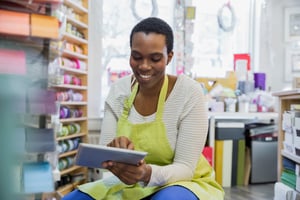 When you launch a store or restaurant, managing inventory is relatively straightforward. As items come and go, you can track everything using nothing more than a simple spreadsheet.
Yet, this inventory management system isn't sustainable for long:
It's incredibly time-consuming to track inventory and update records by hand.
You have to "eyeball" when stock is getting low — this can be hit or miss.
Ordering new inventory requires calling up suppliers on a regular basis.
There's a lot of guesswork when separating the best-sellers from the lemons.
These problems start to manifest early. They only worsen as your business continues to grow (assuming your system is scalable).
This is why many retailers and restaurants use dedicated inventory management software to run their businesses. Doing so allows them to automate repetitive tasks such as tracking, reporting, and fulfillment.
Let's take a look.
What Is an Inventory Management App?
An inventory management app is a software program that can help eliminate many of the problems outlined above. Historically, these platforms have been computer-based, but now apps are being integrated within point-of-sale (POS) systems.
The Advantages of Using an Inventory App Within Your POS System
With all the data in one system, an inventory app allows you to run detailed reports showing what is and isn't selling in your stock, and it becomes possible to automate fulfillment. As stock starts to dwindle, new orders are sent to the supplier — without any direct human intervention.
The benefits of this approach are pretty clear:
You save time by removing the need for manual data entry.
Automation helps you eliminate mistakes and redundancies.
Analytics and reporting allow you to make better-informed decisions.
Thanks to the growth of app marketplaces, there's now an unlimited number of inventory management tools for every industry imaginable.
In addition, many native apps are increasingly built around the software-as-a-service (SaaS) business model, which introduces a host of additional benefits:
SaaS is scalable, allowing you to add as many or as few users as required. You can cancel at any time.
Instead of buying bloated packages, you only have to purchase the bells and whistles you need.
Your inventory app will always be up to date, since downloads and patches all happen within the cloud.
All reporting is centralized — even if you're using multiple devices across two or more locations.
Finding the Right Inventory Management App for Your Business
Getting started is as simple as downloading the right inventory management app for your business's needs. Fortunately, there are dedicated marketplaces, such as the Clover App Market, that offer a wide variety of inventory management apps that work within POS systems.