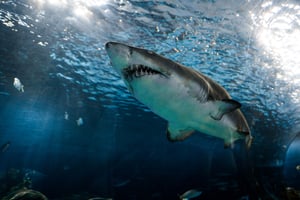 ABC's Shark Tank is an award-winning show in which budding entrepreneurs pitch their business ideas to industry experts who have plenty of money to spend.
The goal of the show is to elicit funding from these angel investors so contestants can take their business ideas to the next level.
The competition is stiff, with nearly half of all contestants going home empty-handed as they join millions of other businesses that never survive their first year.
With a limited number of slots available, it's tough to get on Shark Tank; however, there are plenty of entrepreneurial lessons you can glean from watching the show.
Here are our top tips.
1. You're not a business until you make your first sale
You can have the best business idea in the world, but you're not officially a "business" until you've made your first sale. So, rather than focus on bells and whistles, glossy business cards, or slick offices, you need to develop a minimum viable product (MVP) that appeals to a ready, willing, and paying market. If demand isn't there, your great idea is simply an expensive waste of time and money.
2. Your business must offer something unique
A majority of contestants on Shark Tank come to the table with innovative products and services that don't exist. If there's a ready market, those contestants will likely enjoy a decisive advantage once they launch. In fact, the hosts often stress the importance of developing something proprietary that no one else can offer.
However, you don't necessarily need a patent to succeed.
Domino's wasn't the first pizzeria, nor did it introduce the concept of free delivery. Guaranteeing 30-minute delivery (or your pizza is free) helped to distinguish its offerings in a saturated market.
3. Be prepared to hear "no" repeatedly
There are more than 220 Shark Tank episodes, with only 56% of the nearly 900 contestants receiving any funding.
It makes for gripping television, but this rejection rate is fairly reflective of the real world. In fact, it's actually better than reality since the majority of investors and customers you approach will likely say "no."
It can be deflating. However, success favors those entrepreneurs who keep trying until they finally get a "yes." You need just one positive answer before you're officially in business.
4. Listening is often more valuable than talking
The "sharks" on Shark Tank hold the purse strings. So naturally, the contestants listen to everything they say — including critical feedback and suggestions.
You'll probably never have the luxury of sitting with Mark Cuban to discuss the ins and outs of your business idea, but surely you have a plethora of friends, family members, co-workers, and potential customers — all of whom might have insights to share. You'd be surprised how much you can learn by listening to what they have to say. Doing so is often more valuable than trying to pitch your idea to them.
5. Selling is a skill that anyone can learn (and possibly master)
Although there are some people who are born to sell, most of us aren't. Fortunately, this doesn't matter since salesmanship is like any skill — it's awkward (and maybe painful) at first. But with enough practice and patience, you can master the essentials.
Case in point: Shark Tank investor Barbara Corcoran. She reportedly held 22 jobs throughout her lifetime, including teaching and waiting tables. However, Corcoran never stopped learning how to sell, and now her net worth is $80 million.
6. If you want to succeed, you have to perfect your pitch
What is your business and why should I care? This is the point of Shark Tank, with contestants having one chance to present their ideas and sway investors.
The stakes are high.
As an entrepreneur, however, you have countless opportunities to share your business idea with others. After each encounter — good or bad — you should refine your sales pitch so that it becomes tighter, shorter, and more convincing.
It takes time. Sometimes years.
Eventually, you'll be able to present the uniqueness of your viable product in a way that earns you more "yes" than "no" votes from prospective buyers, suppliers, and investors.
Reach this point and you won't be a budding entrepreneur anymore. You'll be a potentially successful business.
Which Shark Tank Tip(s) Will You Implement First?
If you pay attention, you'll notice that every episode of Shark Tank is packed with useful insights you can apply to your business. While there's no way to fit all of these lessons into this article, the tips outlined above represent some of the lowest-hanging fruit.
Starting with these strategies can have a huge impact on your business's long-term growth potential.