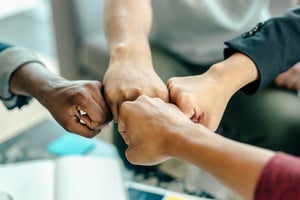 Corporate Social Responsibility (CSR) and social good have often been viewed as strategies for global enterprises to undertake. Rarely is the concept attributed to small businesses, perhaps because of the perceived cost or the idea that it has to be a big effort or it won't actually change the world.
However, what is working is when more businesses of any size take small steps and implement even the most minor changes to how they work or how they view their overall goals. It is in these smaller actions that big shifts can be made that will start addressing some of the larger social issues.
Here are three ways you can do something with your small business that could potentially change the world for the better:
1. Educate and create awareness among your target audience and customer base.
Most people are searching for information that they can use to benefit their own lives or do what they can do to live more responsibly. This is especially true with the millennial demographic who want to feel like they are doing things that really matter in life and have a purpose in relation to the world around them.
To do this, focus on those issues you feel passionate about and where you feel like you can add knowledge and experience that would be useful for your audience. Once you have the topics, then create content around those issues that you can post on your social media sites, blog, email newsletters or other channels where you know your audience engages with your business.
The best format to use tends to be video content followed by other visuals like case studies with pictures and infographics. However, regular content, if formatted in a way that offers easy-to-spot takeaways, also works.
2. Find ways to partner with local government and community groups to innovate.
There is a new CSR movement among startups and entrepreneurs that has focused on working with local, regional, and national government agencies to help with critical social issues through innovation and technology. This movement can be championed by small businesses who work in partnership with local government organizations on committees, programs, and projects that develop job creation programs, tackle environmental issues, and even address other social ills like homelessness. Additionally, these partnerships are leading to new initiatives and even apps that are helping add efficiencies and improve the quality of life for citizens. Plus, many of these projects in your local city may actually provide additional revenue in addition to helping you tackle more positive social initiatives.
To get involved, find out what your local city is working on and identify gaps where skills and knowledge could be useful to these government agencies. Discover what types of projects and vendors are currently working on specific social and govtech projects by looking on your city government website. By contacting those vendors directly, you may have a better chance of getting directly involved in working on that social project and helping your local community make your corner of the world a much better place to live and work.
3. Donate your time and expertise in areas of need.
While you may not have a lot of money to donate to a cause or social problem, your time can be just as valuable a resource for local organizations. For example, you can micro-mentor, which involves advising another small business to help them develop and become a positive economic force in your community.
Other ideas include sharing your expertise online by answering questions on sites like Quora or Career Village. These online platforms enable you to help others in a way that fits your busy schedule. SCORE hosts the online community called PartnerUp that helps small business owners and entrepreneurs, so you can also answer questions and direct others like you on strategy and the right approach to issues they face.
Then, there are numerous other organizations to join in that can be local or farther afield, including many volunteer opportunities that you can tap into online. For example, Goodwill helps people re-enter the workforce. Junior Achievement is a not-for-profit organization that allows you to work with young people to inspire them toward entrepreneurial success. Look for other opportunities on sites like VolunteerMatch.
With so many options, you can find those opportunities that align with your interests, passion, and knowledge, as well as fit into your schedule.
Start Small
Don't feel compelled to take on saving the world overnight. Instead, start with a small project or volunteer assignment and see how you can increase your efforts over time. Anything you can do to focus on improving the world will make a difference. Work toward solving a social issue and encourage others to get involved. In the process, you will most likely increase your happiness in life knowing you are helping others.
---
BluePay is pleased to bring you this valuable information from, Due, makers of a free digital wallet that allows users to easily make and accept payments online.